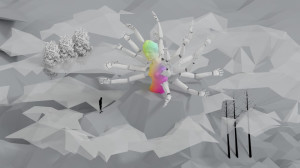 NP3 | M0Bi
SIGN UP NOW!
ALEX MYERS – 'UNiTY'   – EXHIBITION & WORKSHOPS
Artist and game developer Alex Myers will transform the container art space NP3 | M0Bi into the interactive playground 'UNiTY'. Explore his creations, into an endless surreal digital world.
Alex is also Assistant Professor and Program Director for the Game Studies at the Bellevue University and tutor of The Kent Bellows Studio and Center for Visual Arts. The open-source program Unity is a tool for developing games and programs as well as other interactive content.
WORKSHOPS
To share his knowledge, Alex provides also workshops with the use of the open source program Unity. >>> Develop your own original New Media Art Game, experiment and interact with cracks beween function and malfunction or modify existing commercial videogames for own artistic purpose <<<
Workshop #1: Critical Art Games – sold out!
Wednesday May 21 & Thursday May 22
This workshop focuses on creating original New Media Art Games. Making an original Art Game, by utilizing the structure, performance, and culture of interactive play.
Workshop #2: Glitch Art and Games
Tuesday May 27 & Wednesday May 28
This workshop focuses on using and misusing game software to find the interaction aesthetics that exists in the cracks between function and malfunction.
Workshop #3: Critical Art Mods
Thursday May 29 (Ascension Day) & Friday May 30
This workshop focuses on modifying existing commercial videogames for artistic purposes. Critical Art Mods explore the popular use of videogame engines for the production of New Media Art.
Costs of a two-day workshop: €100 including taxes, coffee/tea and lunch
Reservation: now@np3.nu